Homebuyers Remorse Millennials Have It
Homebuyer's remorse? Millennials have it
Caitlin Mullen, Bizwomen contributor
Mar 6, 2019, 10:15am EST Updated: Mar 6, 2019, 11:27am EST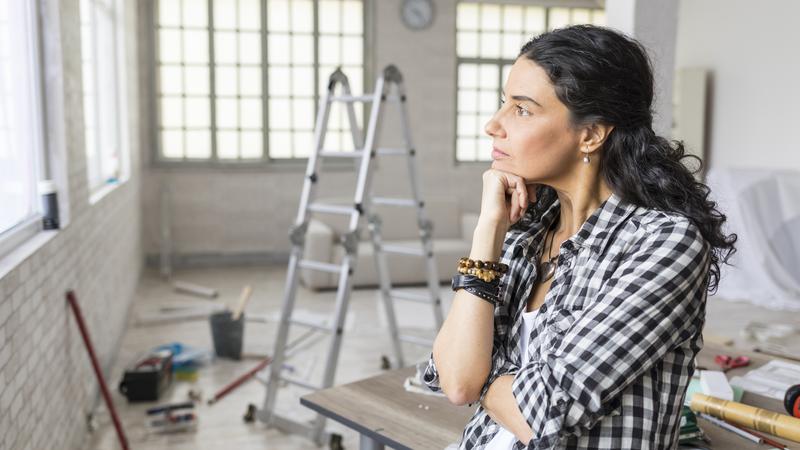 Vladimir Vladimirov
Unexpected and costly home maintenance was the top reason for remorse among Millennial homebuyers.
Home ownership is an aspect of the American dream that's been more elusive for Millennials than other generations. But once they're finally able to make a purchase, many in that age group have buyer's remorse, a new Bankrate survey finds.
About 63 percent of Millennial homeowners, which Bankrate classifies as between ages 23 and 38, feel regret about their purchase, compared to 35 percent of Baby Boomers. The survey sample size was 2,668 adults, which included almost 1,500 homeowners.
Among those 35 and under, home ownership rates in the fourth quarter of 2018 were lowest, at 36.5 percent. Rates were 61 percent for those ages 35 to 44, 70 percent among ages 45 to 54, 75.5 percent for those ages 55 to 64, and 78.8 percent among ages 65 and older, according to U.S. Census Bureau data.
See Also
Bankrate found 44 percent of homeowners overall have some regrets. Some might suffer from the sticker shock of home repairs after forking over a large sum for down payments and closing costs, Luis Rosa, certified financial planner in Henderson, Nevada, told Bankrate.
"A lot of folks don't realize how much it costs to repair and replace items. They're used to picking up the phone and having a landlord or maintenance company come fix it. It can be a real shock to the wallet," Bankrate analyst Deborah Kearnstold Realtor.com.
Unexpected and costly home maintenance was the top reason for remorse for 18 percent of all homeowners; among Millennials, that number was 25 percent. Bankrate has found homeowners spend an average of $2,000 per year on home maintenance.
"Consumers should expect to set aside 1 percent of their home's purchase price each year to keep in savings account to cover these expenses," Kearns told CNBC.
Fifty-six percent experience no buyer's remorse, but among those who do, these were other common regrets:
• House is too small - 12 percent
• Undesirable location - 8 percent
• Not a good investment - 7 percent
• Mortgage payment too high - 7 percent
• Didn't get best mortgage rate - 6 percent
• House is too big - 5 percent
A recent survey by home renovation website Porch determined that buying a house that's too small is the biggest regret among first-time homebuyers, followed by not saving enough leading up to a purchase, underestimating what's needed for buying, and not doing enough research.
More than 57 percent of Millennials use social media in their search for a home, Porch has found, but just 30 percent actually check out the neighborhood they'd like to live in to see homes for sale, per CNBC.
At a median price of $238,000, Millennials are buying less expensive homes than Gen Xers and Baby Boomers, and they're making smaller down payments, reports Business Insider.
Lending Tree has found more single women own homes than do single men — 22 percent to 13 percent — even though their incomes are generally smaller. Single women are second only to married couples among largest segments of homebuyers, per a National Association of Realtors report.
Millennials are now the buyers in about a quarter of U.S. home transactions, with Millennials more likely to buy homes in Salt Lake City, Minneapolis and Pittsburgh than in other large U.S. cities.
Cleveland, Pittsburgh and Oklahoma City are the most attainable for first-time homebuyers, Lending Tree found.
In looking at home sale records last year, Realtor.com discovered Millennial buyers named Hannah, Alexis, Taylor, Austin and Logan saw the biggest increases in home purchase growth, per Forbes. Homes sold to women named Hannah saw the biggest year-over-year sales growth, at 22.8 percent.
"They are entering that stage of life where it's more about they must have that house as opposed to it would be nice to have that house," Javier Vivas, Realtor.com's director of economic research, told Forbes.
The Bankrate survey also reiterates how prominently home ownership features in the American dream, and how many struggle to achieve it.
About 80 percent of U.S. adults believe it's the hallmark of that dream, beating out retirement at 68 percent; a successful career, 63 percent; and car ownership, 58 percent, per Bankrate.
But just over half of those who don't own a home said their income doesn't allow for it. Bankrate notes home prices are outpacing wage growth, not to mention the weight of student loan debt bearing down on Millennials. In some cities — like Louisville, Milwaukee and Oklahoma City — it makes more sense to rent than to buy.
About 41 percent say they can't come up with the cash needed for down payment and closing costs, and 33 percent said high home prices are keeping them from ownership, per Bankrate.
More Information on how to overcome those fears of home buying, contact Kiona Simon at 202-656-8012 or DMVPropertyGal.com
Author:
Kiona Simon
Phone:
757-218-3775
Dated:
March 19th 2019
Views:
196
About Kiona: Buying or selling a house can be an overwhelming and daunting process. Kiona Simon is ready, willin...